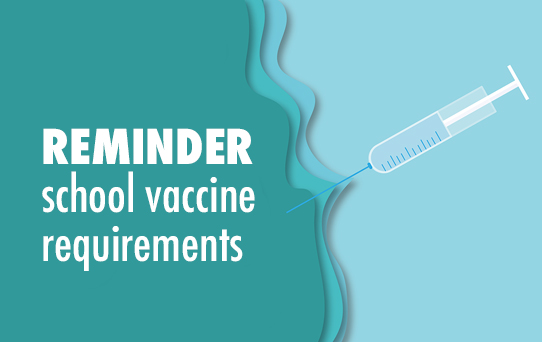 The deadline for students to meet the immunization requirement for mandatory immunizations for public school enrollment is August 19, 2022. If proof of the required immunizations is not provided by August 19, 2022, the student will be excluded from school starting August 22, 2022, until the required immunization documentation has been provided to the school. If you have questions, please contact the school nurse or visit the immunization requirements webpage.
La fecha límite para que los estudiantes cumplan con el requisito de inmunización y tengan las vacunas que son obligatorias para inscribirse en las escuelas públicas es el 1 de agosto de 2022. Si usted no cumple con entregar el comprobante completo con las vacunas requeridas para el 1 de agosto de 2022, no se permitirá que el estudiante asista a la escuela a partir del 22 de agosto de 2022, hasta que la documentación de vacunación requerida haya sido entregada a la escuela. Si usted tiene alguna pregunta, favor de comunicarse con la enfermería de la escuela
공립학교 등록을 위해 학생의 의무 예방 접종에 대한 예방 접종 요건 충족 마감일은 2022년 8월 1일입니다. 필수 예방 접종 증명을 2022년 8월 1일까지 제공하지 않는 경우 해당 학생은 필수 예방 접종 문서를 학교에 제출할 때까지 2022년 8월 22일부터 학교에서 배제됩니다. 궁금한 점은 학교 간호사에게 연락하기 바랍니다.